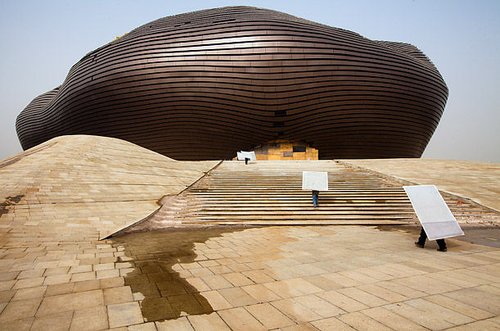 Museum workers are following the steps of the Ordos block handling the piece of foam board, the museum is not yet completed.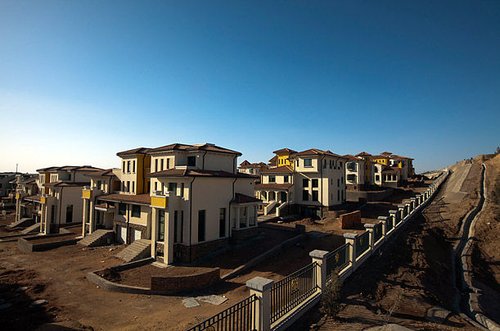 Not yet completed villas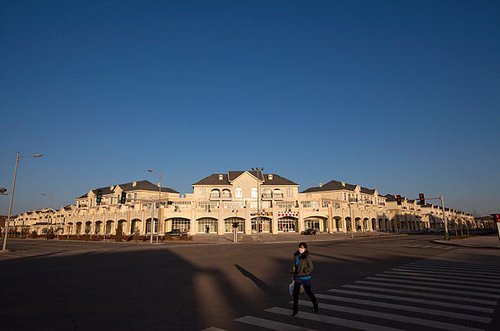 A pedestrian walking in the downtown almost idle, because few people, almost no one wants to do business in New piece.
A cost of more than 50 million to build, an area of 32 square kilometers 内蒙古康巴什 is a luxury Park, but also become an uninhabited 'ghost town'. Spent 5 years building Kang Bashi, intended to show off the city of Ordos outside, but now it is China's real estate bubble of the best exhibits.
Occasional pedestrian, looks like an illusion, trudged along the sidewalk and walk like horror movies after a major disaster, a lonely survivor.
In the Chinese territory, a place surrounded on three sides by the Yellow River. The thirteenth century, Genghis Khan Proud Son of Heaven through here, will there be for his final resting place. Mongolian geographical names here, "Ordos" in Chinese means "a large number of palaces."
GDP year after year, increasing the competitiveness of the Ordos ranked first in the country, with strong economic strength, in the midst of the desert built a new city – 名叫康巴什.
Only, the new names on the map, not just Metro Block, also a "ghost town" – a project radius of 32 square kilometers of the city rarely seen on the pedestrian street, not popularity.
More than the pedestrian street cleaners
"Kang Bashi is a ghost town. At no one, very few people during the day."
March 14, at 7 pm, Inner Mongolia Dongsheng District of Erdos City, Ordos 55 kilometers outside the airport. Just off the plane, a staff reporter inquired, "Kang Bashi where" you will reply.
Kang Bashi 22 kilometers from Dongsheng area. The desert, a level of road connecting the two roads.
15 morning, the traffic is not much. Newly hatched urban areas, but also see a lot of roadside flats under construction, the more the more inhospitable south up.
End of the road suddenly appeared in large areas of woodland, there is one after another, building, rows of villas, it is impressive. 10:00, enter Kang Bashi new area, the first crossing of the red light when no other car to stop, not under the horizontal green cars passed, do not see pedestrians.
Kang Bashi is the center of Ordos City, Party Building, 3 form the same 12-story building. South are facing is that this new area of north-south axis – 200 meters wide, 2,400 meters long Genghis Khan Square.
Place the northwest corner, Erdos Street West junction and culture, cleaners and Old Lee is cleaning the road. This is the first journalist Kang Bashi personal experience.
She is responsible for the road west from here, the number of 10 poles in the distance. 500 meters of the road, Lao Li sweep a few years. The first two years, "better clean up, had nothing, except sand, or sand." She readily carrying a small plastic bag, containing mostly debris bags, "two days so the only point sweep garbage In addition, picked up a bottle. "" Why did not refuse? because no one pictures. "broom while she asked the reporter while Hua La" when to ", and advised:" You look again at night, shocking then – are the dark. "
More than 50 million to build the Desert Park
Comes in the spring, four wind blowing from time to time.
16, at 5 am, the southernmost tip of Genghis Khan Plaza, Lake landscape, scenery, only one reporter.
Small corner of the lake to public health lobby, crowded in six cleaners, Shandong wife, Hubei couple, the other two local old man is in Inner Mongolia. Kang Bashi last year to a woman working in Shandong, said: "Here in addition to vehicles that floor, that no one can." The old man took a local saying: "Kang Bashi front of more than the head", everyone laughed.
Before 2004, Kang Bashi or wilderness, only two small villages of less than 1,400.
At that time, the whole of Inner Mongolia Erdos once the most impoverished areas. Until one day, found here, four "baby": the unique A'er Basi white cashmere known as soft gold; proved reserves of 167.6 billion tons of coal, accounting for 1 / 6, Ordos is now the largest city of China's coal ; rare earth reserves 6.5 billion tons; natural gas proven reserves of more than 8000 billion cubic meters, accounting for 1 / 3.
Because the "sheep, coal, soil, air," and so proud.
The end of 2007, China's urban development of competition ranking: Ordos Growth Competitiveness first in the country; per capita GDP1.0451 million more than Beijing and Shanghai.
Erdos Dongsheng 23 square kilometers on the old city crowded with 30 million people. Hands of the money, the government began to build a new extension of the urban space. In 2004, the government started the construction of new districts in the desert and building a total investment of 50 billion yuan.
12-storey building standing on the roof of party and government south of view, in this vast desert, "white paper" on the six stands Kang Bashi landmark: theater, arts and culture centers, convention centers, information centers, museums , Library.
But, here also the lack of supermarkets, hospitals, schools and people.
Although the facilities are still improving, but this new city of Ordos people are still proud to Kang Bashi as the "Millennium desert, entrepreneurial hot spot." New Party Working Committee Quarterly "Kang Bashi" 2009 No. 1, signed an article in Lin Wynne wrote: "When this comfortable stretch of the road, people exclaim that the 'road work' … … because city authorities just move soon, commercial business is still blank, almost organ with return runway. It is at 8 o'clock, in time flights were spectacular car crash, … … I take the Volvo car before and after death is the currents of a car. "" Mercedes-Benz, Porsche, Bentley, Ferrari have run Qixiu Xiu, one by one aim at beyond; behind the BMW, Ford Mustang, Lamborghini, Cadillac had a catch-me, not willing to make the mood after the home; is entitled Powerful high places that Rolls-Royce, Aston Martin is also a kind of flying Ziying, is lookout driving into the distance, extremely arrogant to red to … … "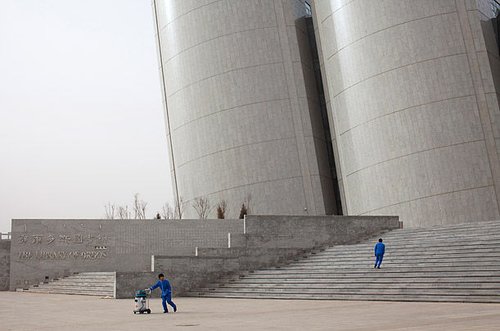 Two sanitation workers were cleaning the plaza outside the public library.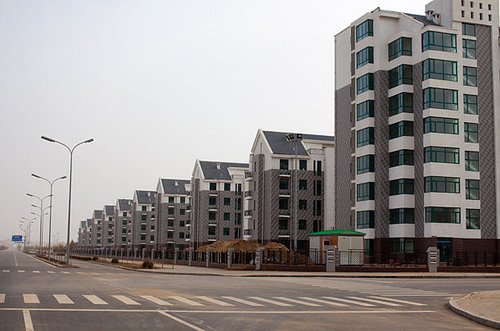 Empty neighborhood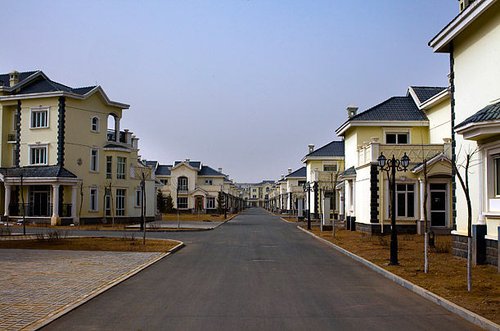 High-end cell is idle
It is hard to understand the desert, "White"
Civil servants are the most important part of the demographic here. Ordos Municipal Propaganda Department told reporters that foreign propaganda chief of the Chen Xi, July 31, 2006, party and government organs to move from formal Dongsheng Kang Bashi New Old City, but many civil servants are still at home Dongsheng, "then two runs. "
Then, it took people to the government work. 16, in the Kang Bashi New Administrative Services hall reporter a few days to finally see the most densely population density Kang Bashi moment: more than 300 square meters of hall, more than 30 staff work more than 50 .
15 noon, Library Hall. Side of the hall is the Xinhua Bookstore, four are reading, two of whom are staff. The hall's security more than the reader, a full 5.
Kang Bashi New in the end how many people? August 2009 issue of "Kang Bashi" Quarterly said: New population situation in 2008 was 28,000, the latest demographic data for the 2.86 million people.
Two or three million people scattered across a 32 square kilometers of reinforced concrete jungle is not difficult to imagine what the scene.
"Vacuum" of the future
A new city, seems to embrace unlimited business opportunities. Reporter learned from Kang Bashi New Area Administrative Committee, has, Kang Bashi nearly 350 total registered enterprises, registered capital of nearly 100 million yuan. Rapid economic growth has created high prices here. 4 stars Harrison Hotel, luxury suite 1,188 yuan per night, single room 398 yuan.
Rental shops more and more. Cannes, Building 3, a grain and oil a vegetable shop, more than 90 square meters, 100,000 yuan in rent, utilities extra.
Old Chang Kang Bashi last August to shop, when I heard a lot of coal boss buyers here, "popular will be very busy," Who would have thought six months, and have not seen a number of local residents. Old Chang had to aim at various business sites, to migrant workers vegetable wholesale grain and oil.
Barely holding on to the prepared "dismantling" the. B10, Building 3, floor area of a restaurant door locked, close to the "transfer" the word. Most shops seem to have the "to do long-term" and wait for strong popular there.
"There is no popular, the new district is an 'empty city', in 'vacuum' zones." Kang Bashi New Area Administrative Committee Director Lin Wei MC in the first meeting of this year, which also does not mince words. Although few people now, but Kang Bashi's future still "limitless", New Phase II construction has begun.
The New CMC latest arrangement of billboards has shown that Kang Bashi area will reach 352 square kilometers – which would be 10 times the current size.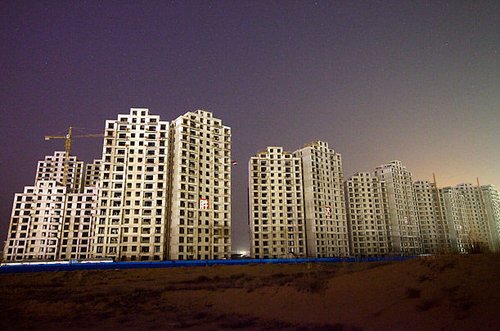 Although no one admitted, Kang Bashi construction project continues.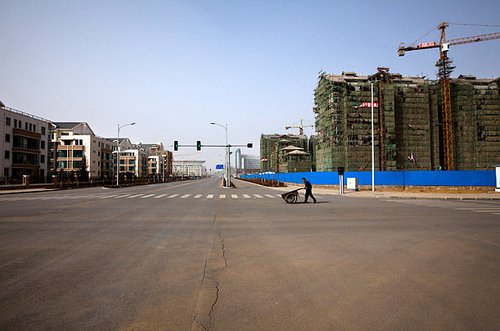 An elderly person pushing a cart through the streets, road sides are still under construction have been completed and the residential.
Foreign media attention
China property bubble birth "ghost town"?
U.S. "Time" magazine on April 5 (advance publication) published the article "ghost town", said the problem did not Gengrang than many economists, investors and bankers sleepless nights of the: Chinese real estate market is a bubble it?
Over the years, a large number of real estate projects across China launched to attract private and corporate buyers. With house prices continued to rise, more investors into speculators, who buy new housing only one purpose, such as when high throw. Since the collapse of U.S. real estate industry has become a catalyst for global economic recession, many people worried that it be repeated in China would be disastrous. In fact, evidence of excess supply everywhere. In Beijing, a vacant commercial building was erected. However, if the mainland of China in depth, there will be a more bizarre scenario no one can be optimistic: the construction of millions of residents of the city stands, has become a "ghost town."
Is perhaps the most desolate ghost town in Inner Mongolia Kang Bashi. The first of 100 million people live, life and entertainment designed this place has almost no human habitation. Only multi-lane road passing several cars during the day some government offices open office. Occasional pedestrian, looks like an illusion, trudged along the sidewalk and walk like horror movies after a major disaster, a lonely survivor.
Only 5 years to build the Kang Bashi, was designed to show off to become the center of Ordos outside, but now it is China's real estate bubble of the best exhibits.